Hello everyone!
It is with great pleasure that I share with you that my illustrious colleague Danessa Myricks is debuting her new instructional makeup DVD entitled "FUNDAMENTAL BEAUTY

"!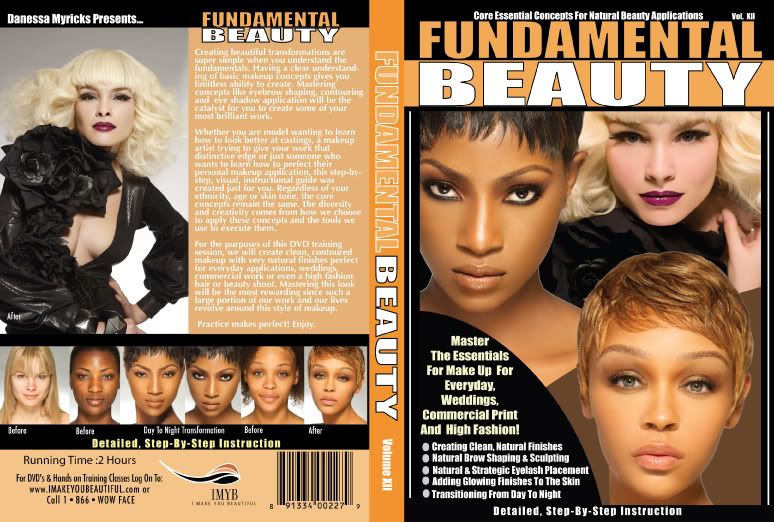 As many of you know, Danessa is legendary for her artistry, seminars, workshops & DVDs. Her exquisite make-up work & comprehensive approach to technique makes her one of thee most sought after make-up artist/educators in the make-up industry. Danessa Myricks is truly an inspiration! Some of her up-coming appearances are listed below & get the full Danessa Myricks story on her website,
www.IMakeYouBeautiful.com
___
- Bronner Brothers Int'l Hair Show in Atlanta GA Aug 6-10, 2010
Sunday is "A Day with Danessa"! This is a day of *free* look and learn education.
- Bennet Career Institute, Washington DC Aug 22, 2010
Contours and Finishes 8 hour hands on Boot Camp
- Eyes, Eyebrow, & Eyelashes - 8 Hour Hands on Boot camp Oct 10th, 2010 - NYC
"FUNDAMENTAL BEAUTY" in Danessa's own words
"
focuses on the core essential concepts for achieving a natural beauty make-up application"
.
This DVD, like the rest of hers is sure to be a huge hit amongst make-up artists & enthusiasts alike.
So on to the part you have been waiting for...how to win "FUNDAMENTAL BEAUTY" - Danessa Myricks' latest DVD...BEFORE it debuts to the public next month!
To win, you must follow all 3 of these Twitter accounts
@IllusionsBeauty
@DanessaMyricks
@JenJamesBeauty
& you will need to leave a comment on this blog stating that you are following (all 3) & why YOU should win a "FUNDAMENTAL BEAUTY" DVD. Simple, follow - comment - win! ;-)
Jennifer James Beauty will be giving away 1 "FUNDAMENTAL BEAUTY" DVD. I will also be tweeting/posting/statusing about other opportunities to win so check my tweets at
@JenJamesBeauty
, & stop by my FB page
Jennifer JamesBeauty
and listen to BEAUTY TALK with Illusions Cosmetics on Blog Talk radio by clicking here:
BEAUTY TALK.
It airs every Thursday at 9pm EST! Contest closes on this blog Thur - August 5, 2010 @ 6pm.
Good luck!
As always, thank you for stopping by my little 'ole blog. Your precious time spent here is greatly appreciated.
TTYL! Jennifer